Romanian girls tend to be difficult to classify based on the unique mix of ethnicities that has influenced their genetic make-up and culture.
Romania is the last country to bare the name of the great Romance empire. Romanian language is most similar to the romance language and has a resemblance to Spanish and Italian. This is quite uncommon in the region and most of its neighbors can be classified as Eastern European and Balkan.
Romania has been under the dominion of the USSR, Austria-Hungarian empire and the Turks. Romanian culture is a unique blend of Latin culture with influences from the aforementioned cultures. 
Romanian Girls Defined
This is perhaps the main reason that Romanian girls are so diverse in physical appearance. Brown hair and brown eyes are more common; however, many Romanian women have lighter complexions and have blonde hair and light eye color. Blonde hair is not as widespread as it is in Norway, but this feature is represented well Romania.
In terms of skin color they are perhaps the darkest in Eastern Europe, along with Bulgarians. However, lighter than Italians and Spanish. What they seem to have in common is the perfect combination of fit and voluptuous bodies. They have perhaps the best assess in Europe which will remind you of the shapes and curves in Latin women. 
Romanian girls take great pride in looking sexy and feminine. Regular trips to the beauty and nail salon on rival the commitment to beauty of Russian girls.
In terms of personality, Romanian girls are strong minded and clever. They work hard in their educational and vocational pursuits. English levels are quite high for an Eastern Europe countries, perhaps similar to Poland. 
While Romanian girls are hard-working, it is important to consider that Romania is a poor country by European standards.
Technically in the European Union, Romanians are permitted to work legal in Western Europe. However, they tend to occupy lower paying jobs abroad. Their willingness to accept such jobs abroad illustrates how low the salaries are in Romania. Essentially, Romania never gained any economic traction after the fall of Communism like Poland and Czech Republic. 
As a companion for how they stack up agains other Eastern European girls, Romanian women are:
Less cute on average compared to Polish girls, but hotter in the upper tier. The hottest girls you see walking around Bucharest are sexier than top Polish girls.
Shorter than Serbian girls and slightly less attractive overall, but more warm and friendly to foreigners.
Less elegance than Ukrainian girls, but more affectionate and trustworthy.
More attractive than Bulgarian women heads down.
Less prone to shit-test men like Ukrainian and Russia women. Romanian girls are not as confrontational. Men who have a sincere interest in a Romanian woman, can expect reciprocal straight forwardness in return.
Split Personalities
As previously discussed, Romanian girls are warm, affectionate and attentive. They have a unique combination of eastern European femininity and Latin warmth.
In meeting women in Romania, one important personality factor needs to be highlighted.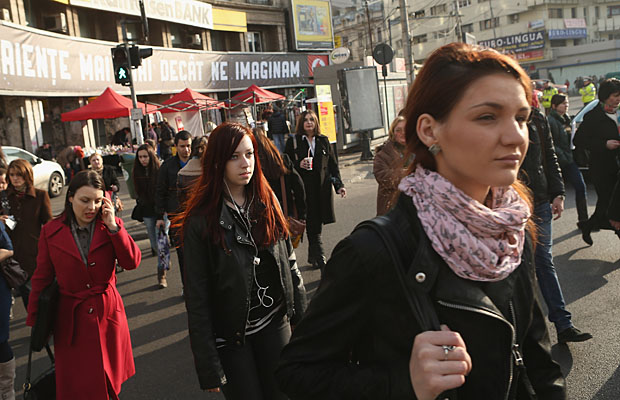 During the day, Romanian women are the most one, friendly and approachable women I have encountered. Meeting them in the streets, malls and cafes in Bucharest is all viable. I consider Romania to be one of the best countries for Day Game in the world.
However, the sweetness and openness exhibited during the day disappears once the sun goes down. In bars and nightclubs, all the pleasantries vanish. Bitch shields soar, rendering them almost unapproachable. Moreover, Romanian nightlife is similar to other night scenes in the Balkans, such as Serbia. Romanians tend to go out in large groups, often accompanied by male friends. Cracking into these circles is challenging and just not worth the effort.
For whatever reason, Romanian women present with a Dr. Jekyll and Mr. Hype complex. Therefore, it is day game 100 percent in Romania. Guys who love the nightlife are directed to Poland where the dynamics are more conducive for hooking up.
Dating Tips
Men can do the following to help the dating process in Romania:
Dress well: Romania girls go to great efforts to look their best. Men who have style and fashionable clothing do well. Grundy, backpacker styles do not fare well with Romanian girls.
Compliment her: Men don't lose points for complimenting Romanian women like they do in the west. They appreciate when men respectful compliment their style, hair, and clothing.
Gifts aren't necessary: Romania does not have a gift-giving culture like in Russia. That said, giving gifts on birthdays and special occasions is important and necessary. The expectation for small gifts like flowers and candy isn't as prevalent as in Russia.
Define what you want: Romanian women expect men to have a clear purpose, specially when it comes to relationships. Essentially, they are long-term relationship minded. They prefer stable, committed relationships. Romania is not a destination for quick, hook-ups. This is evident in the nightlife scene.
Online Dating in Romania
Although not as common as in Ukraine and Russia, online dating is gaining traction. Tinder is not a good dating app in Romania. Remembering that Romania is a poor country-Tinder tends to attract gold-diggers and straight up prostitutes.
International Cupid is a much better app for meeting normal Romanian girls seeking relationships. In addition, to Romanian women, International Cupid has a robust membership from women around the world. men can use this app to connect with local women from whatever country they are in.
Closing Thoughts On Romanian Girls
Romanian girls have so much going for them. They have the perfect combination of Eastern European beauty and Latin dispositions. They also possses the most curvy bodies in all of Europe.
Although meeting them at clubs is challenging, they open and friendly during the day.
Above all, Romanian girls are loyal, affectionate and faithful in their relationships.
What more can we ask for?