Georgia is located in what is referred to as the Caucasus. The Caucasus nations are still a relatively unknown region for many tourists. Tourists are slowly catching on to this amazing region. Georgia is known for its tasty cuisine, world-class wine along with a traditional culture that values family life. Georgians are welcoming to visitors and treat them very well.  It is also a very safe destination with little crime and aggression.
Long durations in Russia and Ukraine can wear on the best of us. The climate is harsh, the food is not always the freshest and the people at times can seem cold and ruthless. Escaping to a close by, a friendly region with your beautiful Russian girlfriend will be a great idea. Georgia is our top recommendation to do so.
Location
Georgia is perfectly situated from the Former Soviet Union. Direct flights from Moscow are: 2 Hours 30 Minutes: and Kiev:  2 Hours 45 minutes
A cheap destination
Georgia's economy fell sharply after the collapse of the Former Soviet Union.  In the early 2000s recovery started.   The country has since stabilized. However, prices for goods inside of Georgia's capital, Tbilisi, remain low for foreigners. In addition,  monthly apartment rentals in the center will only run you a few hundred bucks per month. In Tbilisi, prices are very fair.  You can hire a taxi to drive long distances for as cheap as $40 to $50 a day (roughly 460km – 300mi miles).  Note: your bargaining skills will go a long way in attaining these prices.  Public transportation is a great option for dirt cheap.
In general, you can spend freely on local products and without watching your wallet.  It's pretty easy to enjoy the country on a budget.
The nature
The nature of Georgia can be described as raw and pristine. From your orientation in the West,  travelers can visit the Black Sea by way of  Batumi and other close cities. This is a great summer destination.  In the summer, local as well as, Russians hit the Black Sea to enjoy the warm summer sun, swim in the warm sea, and take part in local festivals and music events that take place.
Venturing to the  North and the East, you'll find very mountainous regions to hike and explore, with cathedrals spread throughout dating back to as early as the 6th century.
For shorter durations in Tbilisi:  you can see unique architecture uncommon in other places in the world.   Easily accessible mountaintop views via the cities funicular ($1 round trip!) is a must in Tbilisi.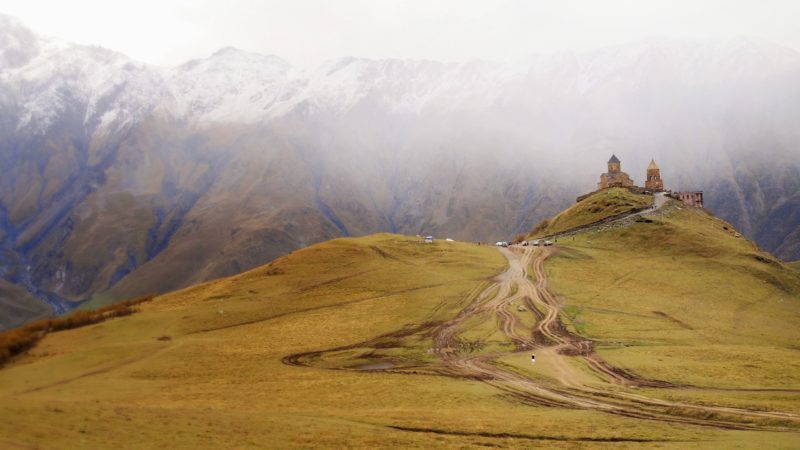 Traditional family values prosper
Eastern Orthodox Christianity is practiced by three-quarters of the Georgian population. Georgians are very conventional in their thinking. Woman enjoy the role to raise a family, cook, clean and take care of their man.  It's not uncommon for Georgians in their mid to late twenties to still live at home with their family. Most Georgians only move out once they get married.
Superior food and wine
With production dating back 8,000 years ago, Georgia is the oldest winemaking country in the world.  Great pride is taken in in their wine production in Georgia. They are proud of their ancient industry. Wine lovers will enjoy tasting the many varieties of grapes that each region offers. In Tbilisi for example, you can visit local wine bars that offer wines from all over the country including.
Georgia has a world-class cuisine to accompany the wine. The national dishes focus on baked goods as well as meat dishes paired with different herbs and spices. Due to its location at the crossroads of the ancient trade routes between the East and the West, Georgian cuisine is influenced by both world domains.  The food is hearty, original, and will expand your app reaction for international cuisine.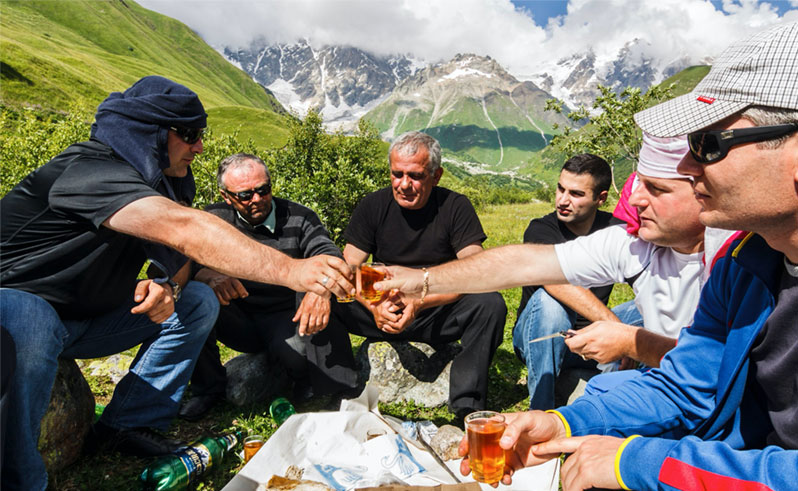 Conclusion
Georgia is the perfect getaway for you and your Russian girlfriend. Georgia is a combination of many unique factors.  Georgia has it all for a couples trip away from the cold FSU: The moderate weather, cheap prices, location, warm culture, moderate weather and friendly people make it our top choice for a holiday with your Slavic beauty.
Interested in more destinations to travel with your girlfriend? Read the top summer destinations.